Your partner for
digital logistics
solutions
Hello, we are kasasi! We develop innovative software solutions and optimise logistics processes by intelligently linking planning data with live telematics data.
Logistics & software expertise, perfectly combined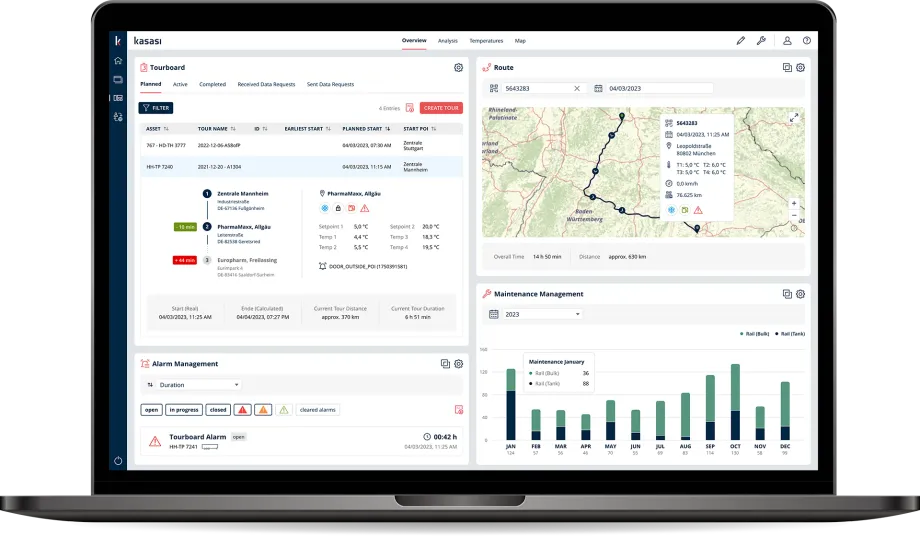 kasasi platform
The kasasi platform is a cross-operator visibility platform that offers solutions for everyone involved in a transport process. As a central platform, the kasasi platform brings together, bundles and standardises various data sources, links order data with telematics data and creates transparency via intelligent visualisations. Monitoring and optimising transport processes have never been so easy or intuitive – the kasasi platform makes it possible.
independent & secure
With our wide variety of connection options, we create interfaces to every system – regardless of what you are currently using. As an innovative web tool, the kasasi platform is a secure, neutral, independent and therefore long-term software solution for optimising your transport processes.
Individual software solutions
In addition to the standard widgets in the kasasi platform, which can be used out of the box, kasasi also offers maximum customisation options through to the development of special application solutions, tailored to your individual requirements and needs.
Digitalisation of the rail sector
Having started out with the development of innovative software solutions for the road sector, kasasi has also specialised in providing software solutions for the rail sector in recent years. kasasi has thus become a key player in the rail sector and is continuously driving forward the sector's digitalisation.
Data sharing
The kasasi platform offers a smart application for the administration of your own partner network and independent control of data sharing. Location data can be shared independently with partners, customers and other stakeholders within the kasasi network. Data exchange with third-party systems outside the kasasi network is also possible on request.
Have we sparked your interest?
Feel free to get in touch with us. We look forward to hearing from you!
The kasasi team