Software solutions for rail freight transport
The kasasi platform collects a wide range of data, simplifies the management of assets and makes it possible to keep track of information with intelligent visualisations.
With kasasi you have track & trace, route and roundtrip management, as well as contract and maintenance management all in one platform – simultaneous use of different portals is therefore a thing of the past.
Manage & track assets in one portal
Manage & track assets in one portal
Logistics processes are based on transport routes, enriched with telematics data, so they can be easily monitored.
Sequence
Integration of information on a transport (A-B and A-B-A) from your transport management system (TMS) via interface (API)

Automatic route start e.g. when leaving the departure station

Automatic coupling of assets at route start to form a train or asset group as a logistical unit, automatic decoupling possible after end of route
Benefits for you
Transport planning data can be automatically transmitted from your TMS to the kasasi platform. This avoids duplicate entries and manual errors.
Transparency for you and your customers
Give your customers access to their order data in the kasasi platform, enriched with live telematics data, and thus also offer your customers full transparency about their shipments.
Alarm management in the event of deviations in your transport
Sit back and relax, the kasasi platform will proactively notify you with real-time information in the event of deviations (e.g. unwanted temperature changes, delays, etc.).
Process optimisation and increased efficiency
With kasasi you reduce manual work through intelligent automation. Utilise the extensive analysis options and reporting capabilities of the kasasi platform to reduce blind spots in logistical processes.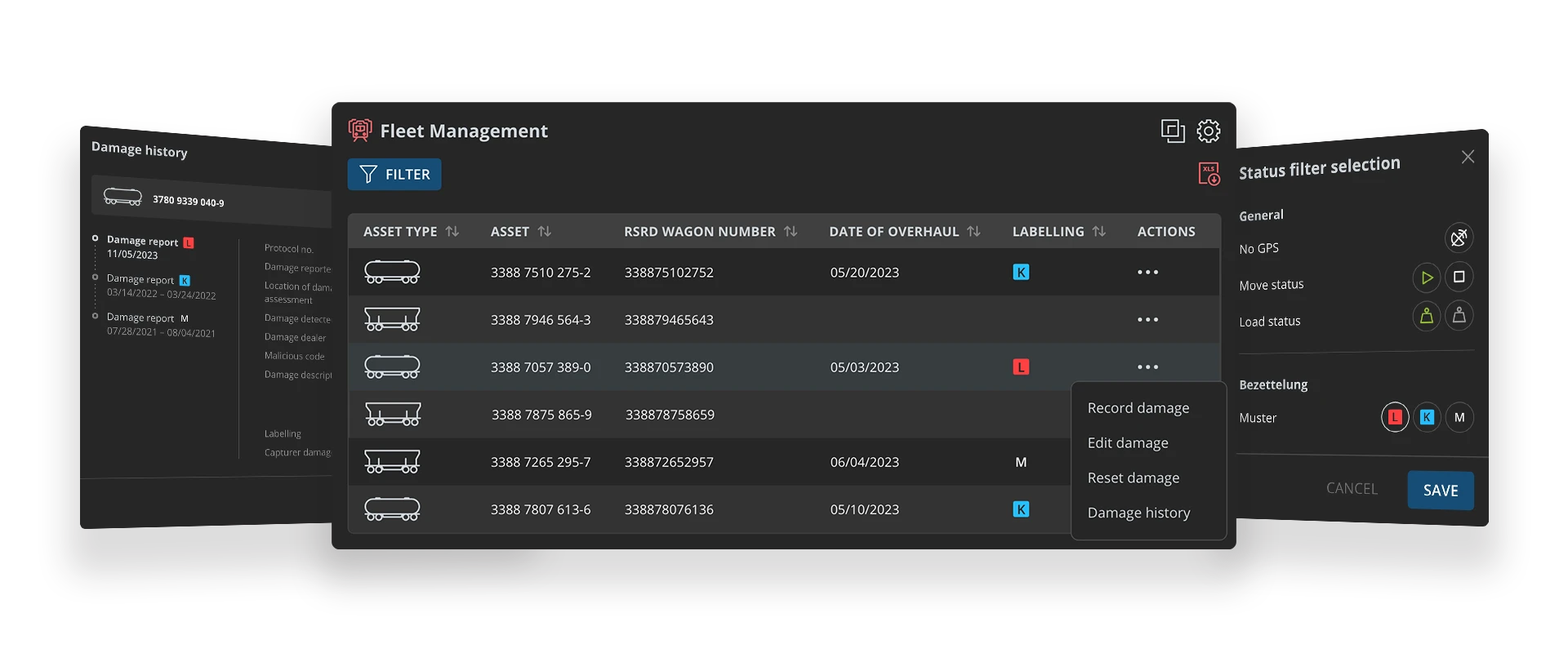 Fleet management
With kasasi fleet management, you get a quick overview of the technical master data of your assets, their current position, loading status, damage status and availability. Thanks to detailed master data such as empty weight, load capacity and dimensions, the scheduling of wagons has never been easier.
Benefits for you
With the kasasi platform, you always have an overview of your fleet, its position, condition, availability and revision information.
The kasasi platform provides you with an overview of the availability of certain asset types at operating sites, thus making it easier for you to schedule wagons.
Use data from the RSRD² master database directly in the kasasi platform.
Maintenance management
The maintenance calendar provides a compact overview of upcoming revision dates. This means you always have a full overview of available asset types without unexpectedly encountering an asset bottleneck.
Benefits for you
No more asset bottlenecks
Individually define the threshold for a critical asset quantity. By graphically highlighting potential asset bottlenecks, you can efficiently adjust your planning.
Revision information bundled transparently
With kasasi maintenance management, you have all the revision information of your assets gathered in one place and you can choose between different display options, e.g. annual / monthly overview, asset type sorting, bar chart, etc.
Use revision information from the RSRD² master database directly in the kasasi platform and thus reduce manual errors.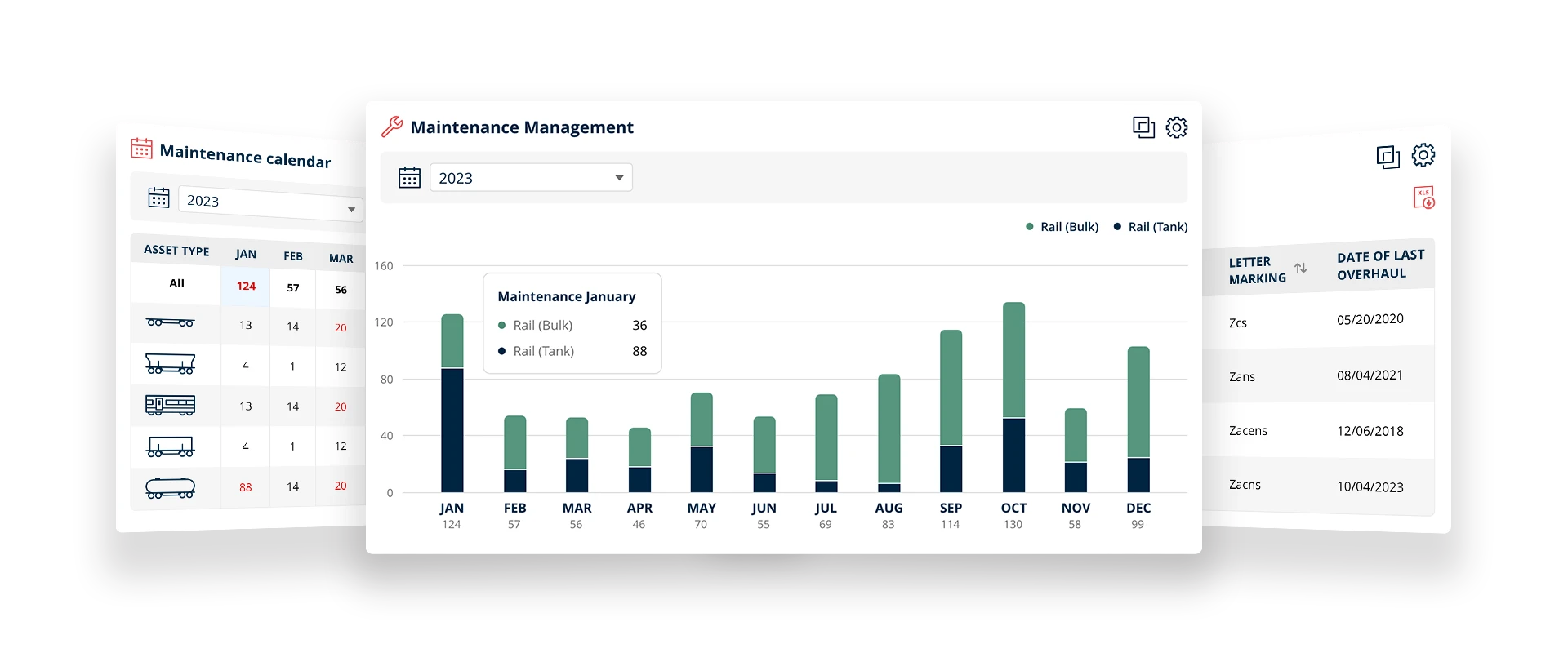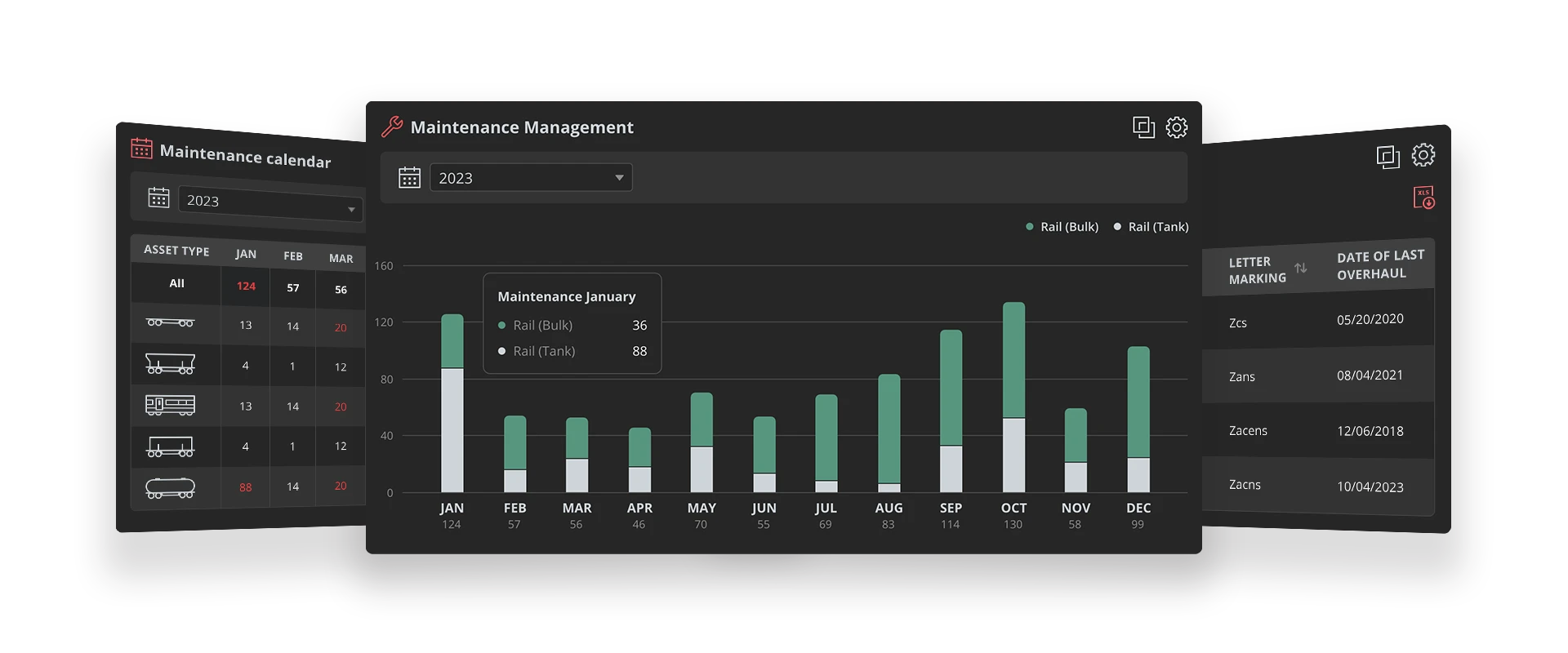 Damage handling
Damage to assets usually means costly downtime, which must be minimised. For this reason, kasasi integrates information on damage to assets from recognised third-party systems and gathers this information centrally in the kasasi platform. Different degrees of damage are displayed graphically in the platform, so you can quickly get an overview of currently damaged wagons.
Benefits for you
Easily capture and manage asset damage
Adoption of GCU damage codes and descriptions
Integration of damage information from third-party systems
Integration of data from the TrainChecker app and RailWatch
Damage label graphically visible directly on the asset symbol for an even faster overview of currently damaged wagons
Contract management
Laborious contract management made easy. With the kasasi platform, you can easily create existing and new asset leases and benefit from digital management and automated monitoring.
Benefits for you
Simple creation of asset leases
Creation of leases with individual lease price scaling
Overview of all active and inactive lease relationships
Easy maintenance of contract renewals for expiring contracts
Customised solutions
Are you missing a certain functionality in the kasasi platform? No problem, because "It doesn't exist!" doesn't exist at kasasi. Based on your use case, we work with you to develop tailor-made functionalities to optimise processes and increase cost efficiency.
Find out more
Data Sharing
Simple and complete sharing of data is the basis for monitoring every transport. That's why kasasi has developed a tool that takes data sharing to a new level through 100% self-management.
100% self-management – 100% control
You retain full control over your own fleet and decide with whom you share what data. At the same time, your service partners give you access to data from transports that are carried out for you or that are relevant to you. And the best part: once everything is set up, the route-based data forwarding happens fully automatically.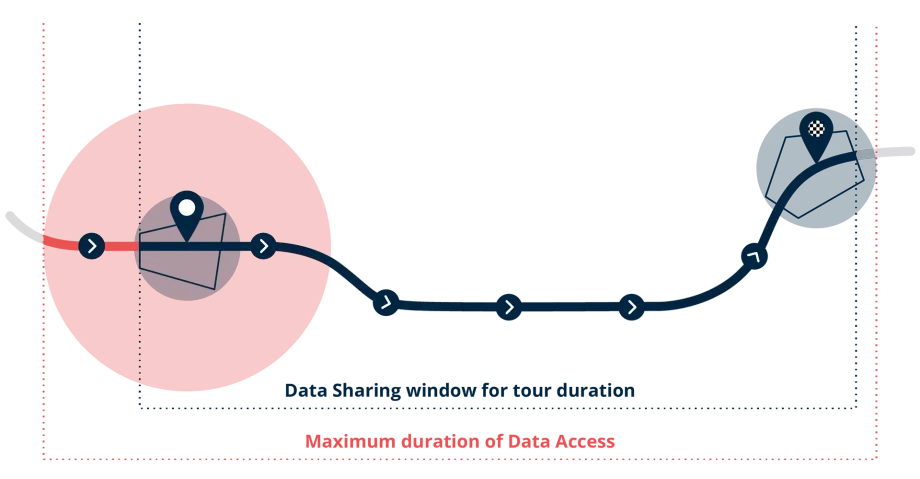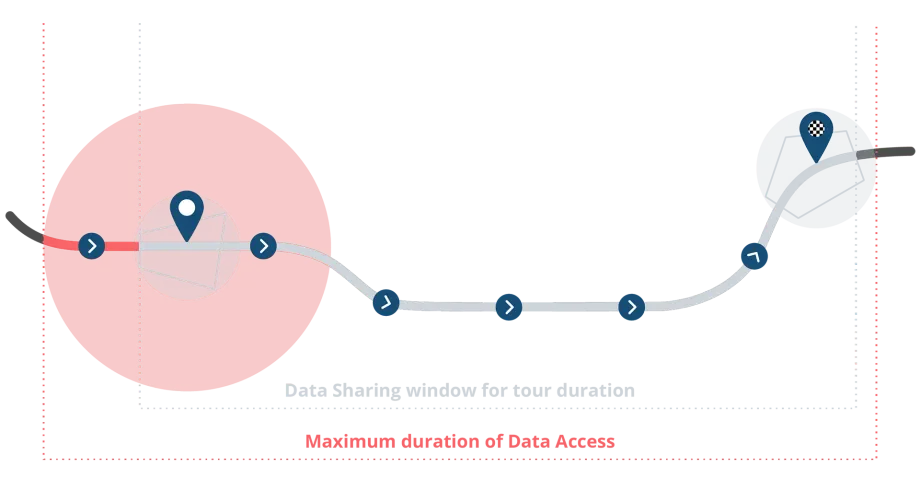 Benefits for you
Self-managed integration of your own service provider network
After an uncomplicated onboarding process, the fleet of your service partners is at your disposal. As soon as an active route is carried out, data will become visible – if access has been granted.
You are always in control
Self-management of the entire network and fleet allows you to stay in control of who gets access to live tracking at all times.
Fully automated sharing of telematics data with partners
Once your fleet is set up in the system, you can sit back and relax, because the sharing of telematics data with service partners takes place fully automatically from then on. kasasi always ensures that data is only passed on for active routes and for the duration of the transport.
Have we sparked your interest?
Feel free to get in touch with us. We look forward to hearing from you!
The kasasi team